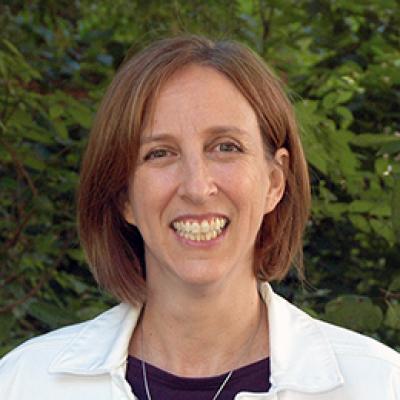 Academic Professional
Plant Biology; Division of Biological Sciences
Office:
Miller Plant Sciences, Rm 4506
Biography

Dr. Beyette began her scientific research career as an undergraduate student working at the Solar Energy Research Institute (now known as the National Renewable Energies Laboratory, NREL) in Golden, Colorado, investigating the production of biofuels from corn stalks using the yeast Schizosaccharomyces pombe.  As such, she recognizes the value of experiencing research as part of an undergraduate education.  For her PhD research, she purified and enzymatically characterized the calpain-like calcium-dependent proteinases that are present in crustacean muscles, and are activated cyclically during the crustacean molt cycle.  These calpain-like proteinases cleave muscle fibers in a manner that is similar to the way that human calpains act in the disease muscular dystrophy.  As a postdoctoral fellow, Dr. Beyette worked at the University of Leicester in England, investigating the multicatalytic proteinase which is ubiquitous in eukaryotic cells, and its role in programmed cell death in rat thymocytes.  Her second postdoctoral fellowship, at the University of Cincinnati, investigated the short amino acid sequences necessary for cleavage recognition in substrate proteins by the multicatalytic proteinase.

               After completing two postdoctoral positions in biochemistry research, Dr. Beyette became interested in science education. She obtained a post-baccalaureate degree teaching license for secondary education, and taught a year of high school biology and chemistry. She wanted to work collaboratively with others involved in research and actively improving the quality of science education, and she found that environment at the University of Cincinnati, Department of Biological Sciences where she has been an Educator since 2009. Currently she teaches freshman and sophomore-level lectures and coordinates the year-long General Biology lab sequence. She completely re-designed the lab course to consist of problem- and challenge-based labs, and has developed a new course, Models and Applications in Biology, that integrates content from biology, statistics, and engineering. She has taught this course from 2011-2015 as part of the Cincinnati Engineering-Enhanced Math-Science Partnership Summer Institute for Teachers, University of Cincinnati. In the last five years, she has attended several conferences and workshops on STEM education.  She has focused specifically on improving her lab and lecture courses by including research-based active learning practices, and shares her skills by presenting talks and leading STEM course design workshops on this topic. Most recently, as an academic professional faculty at the University of Georgia, she is applying her expertise in education to teaching non-majors biology with an emphasis on active learning and critical thinking, to developing a Peer Learning Assistant program for the College of Engineering at UGA, and implementing Learning Outcome Assessments for undergraduate students who are majoring in Biology at UGA.
Education

Education:

2005-2007            Post-Baccalaureate Secondary Education Teaching Licensure Program (Integrated                                        Sciences, emphasis in Biology and Chemistry) University of Cincinnati 

1988-1995            PhD in Cell and Molecular Biology Colorado State University 

1984-1988            B.S. in Biological Sciences Colorado State University (With Honors, Highest          Distinction)