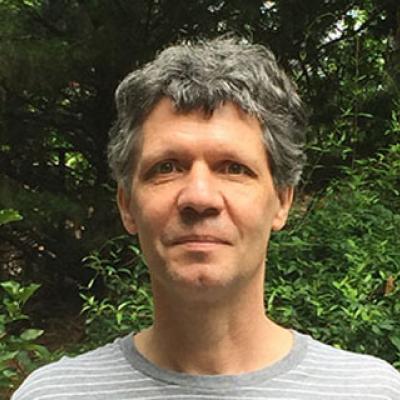 Associate Professor
Plant Biology
Lab:
Miller Plant Sciences, Rm 4606
Office:
Miller Plant Sciences, Rm 4609
Research

Research Interests:

Plants, just like animals, start life as a single cell. This cell and its daughters then need to lay down the reference points required for realizing a complex body plan. We would like to understand the molecular mechanics of this process: which cues do plant embryos read-out and how do they interpret them to derive basic positional values, such as top/bottom, surface/interior? We are studying these questions in the model plant Arabidopsis thaliana using a variety of approaches, including genetics, targeted manipulations, and imaging.

The two main projects in the lab revolve around key functions in the early patterning process we have originally identified by mutation: a MAP kinase pathway promoting elongation of the zygote and development of its basal daughter cell into the suspensor; and a family of GATA-type transcription factors required for positioning the boundary between suspensor and proembryo, across which the root is organized.

In addition, we have recently begun to explore transcriptional profiling of early embryos with the aim of analyzing the functional relationshpis between different embryonic patterning mutants and, ultimately, constructing gene regulatory networks describing the patterning process.

Grants:

National Science Foundation, "MAP kinase sugnaling in the Arabidopsis embryo"; May 2013 – April 2017.
Selected Publications

Selected Publications:

Gillmor CS, Roeder AHK, Sieber P, Somerville C, Lukowitz W (2016) A genetic screen
Jeong S, Eilbert E, Bolbol A, Lukowitz W (2016) Going mainstream: How is the body axis of plants first initiated in the embryo? Dev Biol, advance publication online, doi:10.1016/jdbio.2016.05.002.
Gillmor CS, Roeder AHK, Sieber P, Somerville C, Lukowitz W (2016) A genetic screen for mutations affecting cell division in the Arabidopsis thaliana embryo identifies seven loci required for cytokinesis.PLoS One 11, doi: 10.1371/journal.pone.0146492.
Jeong S, Lukowitz W (2015) Embryos, camera, laser, action!Dev Cell 34, 137–137,
doi: 10.1016/j.devcel.2015.07.007.
Biswal AK, Hao Z, Pattahil S, Yang X, Winkeler K, Collins C, Mohanty SS, Richardson EA, Gelineo-Albersheim I, Hunt K, Ryno D, Sykes RW, Turner GB, Ziebell A, Gjersing E, Lukwoitz W, Davis MF, Decker SR, Hahan MG, Mohnen D (2015) Down-regulation of GAUT12 by RNA silencing results in reduced recalcitrance and increased growth in a woody biofuel feedstock.  Biotech Biofuels Biotech Biofuels 8, doi: 10.1186/s13068-015-0218-y.
Hao Z, Avci U, Tan L, Zhu X, Glushka J, Pattahil S, Eberhard S, Sholes T, Rothstein GE, Lukowitz W, Hahn MG, Mohnen D (2014) Loss of Arabidopsis GAUT12/IRX8 causes anther indehiscence and leads to reduced G lignin associated with altered matrix polysaccharide deposition.  Front Plant Sci 5, Article 357.
Zhao C, Nie H, Shen Q, Zhang S, Lukowitz W, Tang D (2014) EDR1 physically interacts with MKK4/MKK5 and negatively regulates a MAP kinase cascade to modulate plant innate immunity. PLoS Gen 10, e1004389.
Rademacher EH, Lokerse AS, Schlereth A, Peris CL, Bayer M, Kientz M, Rios AF, Borst JW, Lukowitz W, Jürgens G, and Weijers D (2012) Different auxin response machineries control distinct cell fates in the early plant embryo. Dev Cell, 22, 211–222.
Jeong, S, Volny M, Lukowitz W (2012) Axis formation in Arabidopsis – transcription factors tell their side of the story. Curr Opin Plant Biol 15, 4–9.
Jeong S, Palmer T, Lukowitz W (2011) The RWP–RK factor GROUNDED promotes embryonic polarity by facilitating YODA MAP-kinase signaling, Curr Biol 21, 1268–1276.    
Education

Education:

Ph.D Developmental Biology and Genetics, University of Tubingen 1996