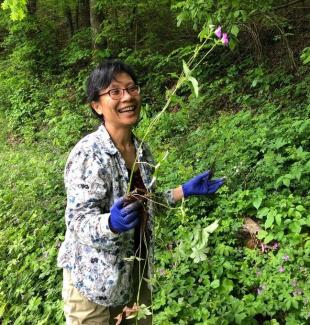 Zoom Event: Register here: http://atlantabg.org/calendar/science-cafe-shu-mei-chang/
Dr. Shu-Mei Chang will talk about Flowers in the Science Cafe of the Atlanta Botanical Garden.
Flowers are the most striking features of many plants that attract the attention of both pollinators and people. They are key to a plant's reproduction and long-term success in nature. Beyond their beautiful appearances, flowers contain features not easily detectable by human eyes but that are equally important to their genetic and ecological success. In this talk, Dr. Chang will share some of her research on floral variation in two plants that can be found in GA, tall morning glories and wild geraniums, to bring attention to the intriguing and wonderful variation present in natural systems.
To register for the Event: http://atlantabg.org/calendar/science-cafe-shu-mei-chang/