Image: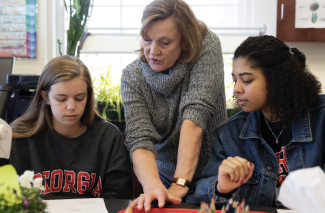 After over thirty years with the Plant Biology Department, Brigitte Bruns retired on Dec 31st, 2020, exactly one year ago.
Brigitte's retirement celebration took place on August 27, 2021. We wanted to use this anniversary to say heartfelt thanks to Brigitte for her many years of dedicated service to the Plant Biology Department and highlight some of the many contributions she has made.
Brigitte joined the Plant Biology Department in 1989 as a Senior Research Associate. In 2007 she took charge of the Plant Biology teaching laboratories for non-major students as an Academic Professional. In this role, Brigitte reimagined not only how plant biology was taught, but also the physical layout of the labs. She developed guided-inquiry labs to allow students to pursue their own research questions, while ensuring that they could succeed. She also transformed the lab setting in an attractive learning space filled with plants, always open for visits by students and their families. Under her leadership non-science freshmen students developed into researchers and applied what they learned to current issues, lining the walls of the Plant Biology corridor with their research posters and making it an attractive place for everyone coming through.
Brigitte was also a member of the architectural building committee for the new Science Learning Center (SLC) and she was instrumental in designing the new Plant Biology Lab space on the 4th floor. This lab space is often the last stop on guided tours for the SLC, which is a great compliment to Brigitte's vision and creativity. Despite having only a small budget, the undergraduate student enrollment numbers more than tripled under Brigitte's leadership.
Brigitte was also a valuable mentor to our graduate students. She not only trained graduate students as teaching assistants and future teachers, she also was often the go-to person for graduate students who struggled to manage their own class load, along with their teaching and research responsibilities. The fact that many of the graduate students Brigitte worked with are still in contact with her is a great testament to Brigitte's mentoring skills and her caring spirit. 
We all owe Brigitte a huge debt of gratitude; her legacy lives on, but we miss her as a friend and colleague. We wish her a joyful retirement with her family.