Image: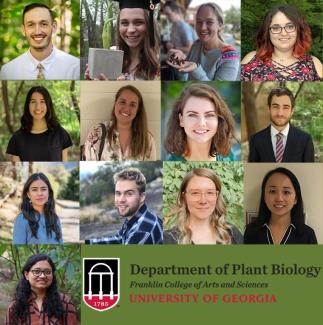 Please join us to congratulate all graduate students for successful completion of 2020/2021 academic year! We recognize that it was a particularly challenging time in the midst of pandemic. In addition to student accomplishments that we highlighted previously we want to extend congratulations to these students for the following achievements beyond the Department (University-wide, professional societies, funding agencies):
Max Barnhart:  American Society of Plant Biologists, Ambassador 2020-2021

Philip Bentz: Botanical Society of America, Grad Student Research Award, 2021

Kelly McCrum; Ankita Roy; Samantha Surber; Simone Lim-Hing: UGA Graduate School, Summer Research Grants, 2021

Kelly McCrum and Philip Bentz: The Society for the Study of Evolution, R.C. Lewontin Early Award, 2021

Simone Lim-Hing and Max Barnhart: American Society of Plant Biologists, Plant Biology Learning Objectives, Outreach Materials & Education grant, 2021

Melanie Merritt: Sevilleta Long-Term Ecological Research, Graduate Student Summer Fellowship, 2021

Michelle Henson: Georgia Botanical Society, Marie Mellinger Field Botany Research Grant, 2021

Yelena Pacheco: Coleopterists Society, Graduate Student Research Enhancement Award, 2021

Rachel Perez-Udell: UGA Center for Teaching & Learning, Excellence in Teaching, 2021 and American Association of Colleges & Universities, K. Patricia Cross Future Leaders Award, 2021

Mia Rochford and Trevor Tuma: UGA Plant Center, Doctoral Dissertation Improvement Grant, 2021

Limeng "Momo" Xie: International Society of Root Research, Ambassador 2021 and UGA Graduate School, Graduate Education Advancement Board Fellowship, 2021
Thank you everyone for your hard work!