Image: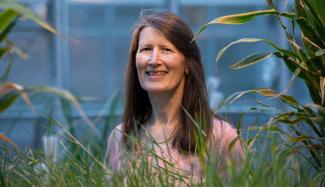 Congratulations to Katrien Devos and her two senior research associates Tom Pendergast and Peng Qi for publishing a high-quality reference genome of switchgrass in the Jan 27 issue of Nature! This marks a critical step for the potential use of switchgrass as a feedstock in a changing climate and also towards its potential use as a biofuel. This work is a result of a large national collaborative effort that involved the analysis of biomass and survival among 732 resequenced switchgrass genotypes, grown across 10 common gardens spanning 1,800 km of latitude.
See UGA Research News article for more information.
Research article was published on Jan 27th in Nature: link.