Image: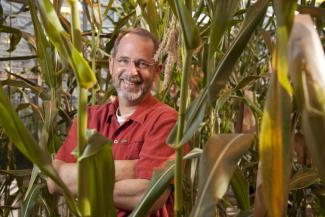 Congratulations to Dr. Kelly Dawe, UGA Athletic Association Professor in Plant Biology for his groundbreaking paper just published in the Aug 6 issue of Science!
The research team co-led by Dawe published a staggering number of 26 corn genomes, which will form the foundation for a better understanding of what genetic mechanisms account for crop traits prized by farmers and will allow plant scientists to select genes likely to improve crop yield and/or stress tolerance.
Co-authors include Plant Biology alumni William A. Ricci and Na Wang – congrats!
See the full UGA Today article for more information.
The research article was published on Aug 6th in Science: link.