The Undergraduate Program
The undergraduate core curriculum in Plant Biology is aimed at giving students a broad understanding of plant and/or fungal biology relevant to current environmental and society challenges, and thus relevant to jobs. In addition to courses in plant biology, the undergraduate major will build on many classes similar to a biology major (e.g. genetics, evolution and ecology) but will be able to pull together an interdisciplinary program of study from across colleges. Advanced plant biology classes are typically small and promote interactive learning with a combination of lab and lecture experiences. Independent research is a central theme in our department, because directed study in the field or laboratory with a faculty member on a specific research topic gives the student first-hand experience with the actual process of botanical investigation.
Undergraduate research
The best way to learn about science is to help professionals as they acquire new knowledge in the laboratory or at field sites. Plant Biology faculty welcome undergraduate participation in research projects. By working alongside faculty, graduate students and research fellows, undergraduates discover how science is really done, and at the same time, receive academic credit for their efforts. Our undergraduate researchers have the opportunity to present their research at the Plant Biology annual graduate student research symposium here on campus, and at regional and national conferences. Undergraduate researchers can receive travel funds to present their research at conferences.
Kiersun Jones, a Plant Biology major doing research in the Khang lab, was awarded first prize for his poster on "Early Stage Invasion of Rice Blast Hyphae Ruptures Surrounding Plant-derived Membrane" at the Aug 2014 Plant Biology Symposium.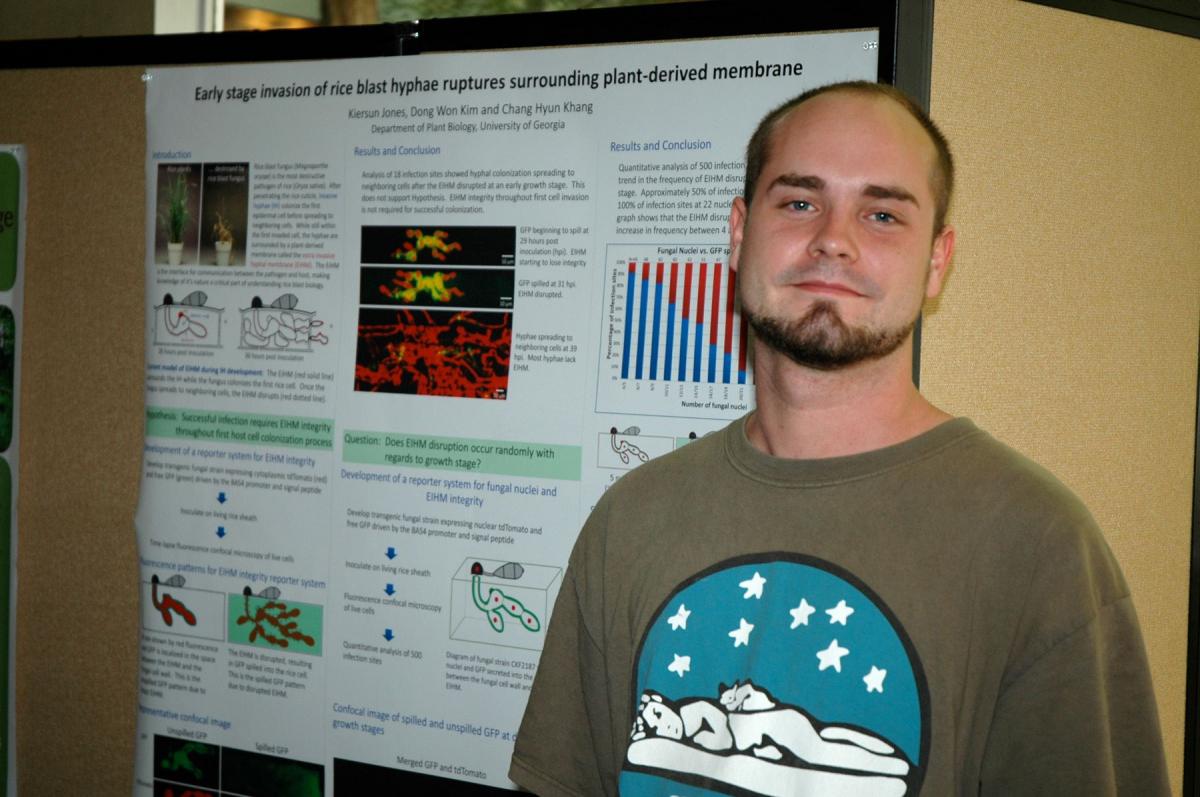 Career opportunities
Careers in plant and fungal sciences are numerous and diverse. They include research at universities, government laboratories and at biotech companies; teaching at the high school, college or university level; management and interpretation as staff biologists with state and federal agencies; and administration and sales with plant and plant product related industries.  Explore possible careers at these sites:
Botany (traditional term encompassing plant and fungal biology)
Plant Pathology (plants and diseases)
Plant Ecology and the Environment
An undergraduate major in plant biology can also provide a strong background for graduate-level study in plant biology and other biological sciences.
Please note that we are in the process of changing our plant biology major requirements to reflect the interdisciplinary nature of our area and focus on careers, so come talk to us if you want to find out the new major requirements that we expect to be in place for fall 2015!