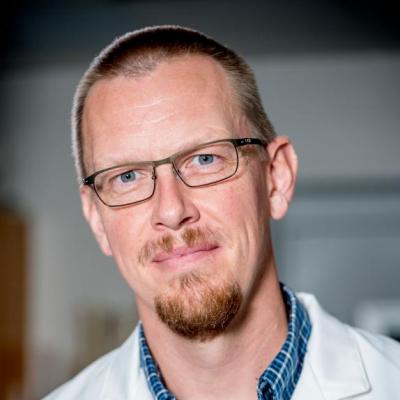 Distinguished Research Professor & Department Head
Plant Biology
Lab:
Miller Plant Sciences, Rm 4604
Office:
Miller Plant Sciences, Rm 4615/17
Biography

Dr. Burke grew up in Minnesota and attended the University of Minnesota as an undergraduate, earning a B.S. in Genetics & Cell Biology (1993). He later received a Ph.D. in Genetics (1999) from the University of Georgia before conducting postdoctoral research at Indiana University. In 2002, he joined the faculty at Vanderbilt University, and in 2006 he returned to UGA as a faculty member in Plant Biology. In 2019, he was named a Distinguished Research Professor, and in 2020 he took over as Head of Plant Biology. His lab studies the origin and evolution of crop plants, with a current focus on adaptation to stressful environments.
Research

Research Interests:

Our primary focus is plant evolutionary genetics and genomics. More specifically, we're studying the genetic basis of evolutionary divergence within the sunflower family (i.e., the Compositae or the Asteraceae). We also maintain an interest in the ecological and evolutionary impact of transgene escape from genetically modified crops into their wild relatives.

Grants:

USDA-NIFA Biotechnology Risk Assessment Grants (BRAG) Program (Award #2016-33522-25630). Short-term experiments as predictors of long-term patterns of gene introgression in crop-wild hybrids. 09/01/2016-08/31/2019. (lead PI w/1 co-PI).

NSF Plant Genome Research Program (Award #IOS-1444522). 08/15/15-07/31/20. Evolutionary genomics of abiotic stress resistance in wild and cultivated sunflowers. (lead PI w/5 co-PIs).

Genome Canada – Large-Scale Applied Research Project Competition. 10/01/15-09/30/19. Genomics of abiotic stress resistance in wild and cultivated sunflowers. $7,879,009 (co-Project Leader w/6 co-PIs).
Industry Consortium. 01/15/12-01/14/19. Sunflower genomic resources. $840,000 (one of 3 co-PIs; $280,000 to UGA w/additional funds under negotiation).
Selected Publications
Education

Education:

1994-1999     Ph.D. in Genetics, University of Georgia
1989-1993     B.S. in Genetics and Cell Biology, Minor in Statistics, University of Minnesota
 
Other Information

Of note:

University of Georgia Distinguished Research Professor (2019)

University of Georgia Lothar Tresp Outstanding Honors Professor (2017)

University of Georgia Sandy Beaver Excellence in Teaching Award (2016)

National Academies Education Fellow in the Life Sciences (2013)

University of Georgia Creative Research Medal (2013)